Mailing Address
Dry Run Commons HOA
C/O Coventry
Group Community
Management, Inc.
P O Box 2580
Winchester, Va 22604
Phone:540-535-0816

Property Manager
Adam McGuinn
All correspondence must be
sent to the address and
phone number above.


DRC Quick Reference Covenants & Restrictions Article XII
A. Primary Residential Use [Sct.1(a)]

---
B. Business use in Residential Units [Sct.1(b)]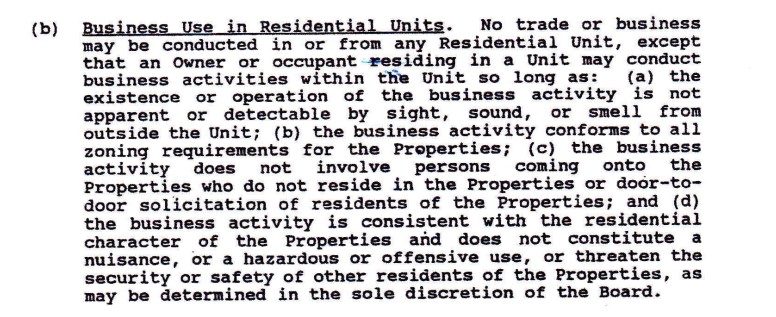 ---
C. Subdivision of Lots [Sct.2(a)]

---
D. Property Maintenance [Sct.2(b)]

---
E. Nuisance [Sct.2(c)]

---
F. Unregistered Vehicles [Sct.2(d)]

---
G. Pets [Sct.2(e)]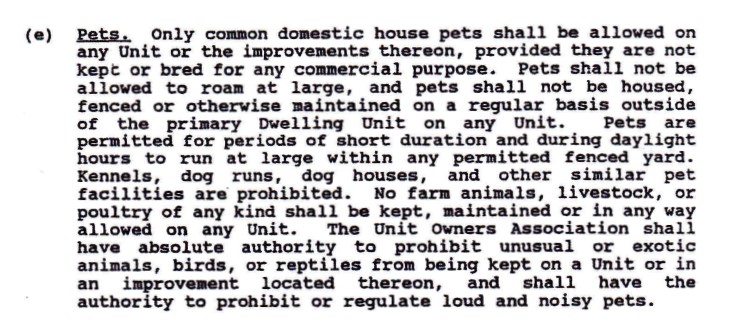 ---
H. Parking[Sct.2(f)]



Supplement changes 1st paragraph from 2 to 4 vehicles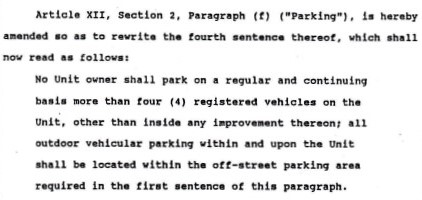 ---
I. Snowmobiles,trailbikes, and similar vehicles [Sct.2(g)]

---
J. Construction [Sct.2(h)]

---
K. Commercial Vehicles, Equipment, etc [Sct.2(i)]


The Board of Directors voted not to enforce this covenant on utility vehicles at the April 8th,2014 Board of Directors meeting; however the enforcement of tractor trailers, dump trucks, etc. remains in force.
---
L. Utility Lines [Sct.2(k)]

---
M. Outdoor Lighting [Sct.2(l)]

---
N. Mail Boxes [Sct.2(m)]

---
O. Signs [Sct.2(n)]

---
P. Beverage Restrictions [Sct.2(p)]

---
Q. Restrictions on Residence Types [Sct.2(q)]

---
R. Trees[Sct.2(r)]


Amended by Supplementary Declaration 15 November 2001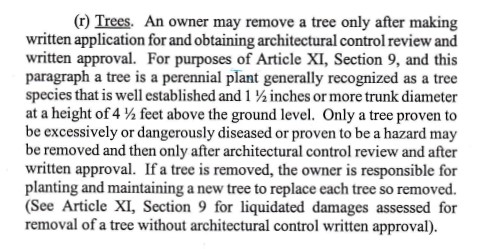 At the July 23, 2012 Board of Directors meeting the Board voted that it was no longer necessary to enforce this section of our covenants.
---
S. Fences [Sct.2(s)]


Amended by Supplementary Declaration September 27, 1994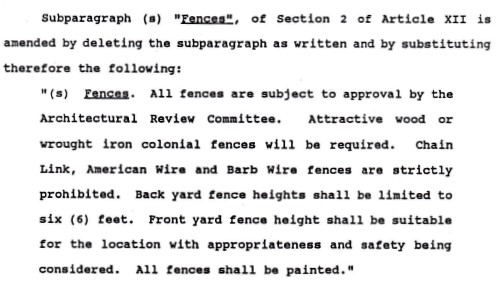 ---
T. Residential Unit Size [Sct.2(t)]

---
U. Antennas [Sct.2(v)]


Amended by Supplement August 15, 1995

That supplement was amended by Supplement September 5, 2001
---
V. Pools [Sct.2(w)]

---
W. Drainage [Sct.2(x)]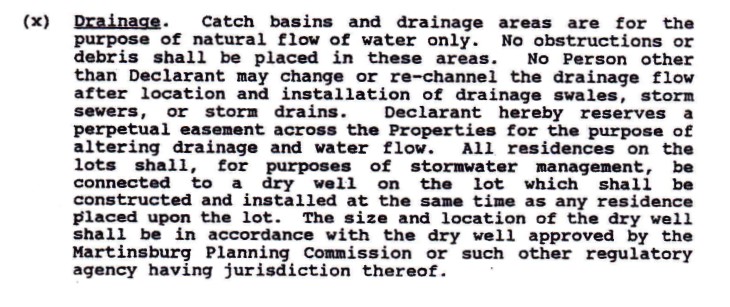 ---
X. Sight Distance at Intersections [Sct.2(y)]

---
Y. Artificial Vegettation, Exterior Sculpture, Etc. [Sct.2(z)]


Amended by Supplementary Declaration 15 August 1995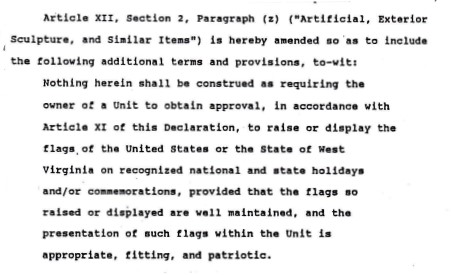 ---
Z. General Exterior Painting[Article XI Sct.14]


Amended by Supplementary Declaration 27 September 1994


---
AA. Uses in Compliance with the Law [Sct.2(cc)]

---